Latest News Blog
June 2013
---
Sunday, 30th June 2013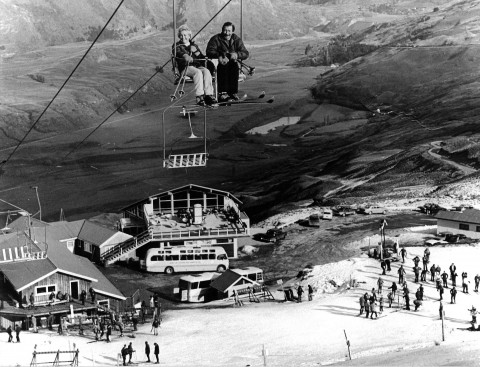 Coronet Peak
Coronet Peak was the first ski field in the Queenstown area and holds many memories for those of us who learned to ski there.
I certainly remember the rope tows!
Today is the last day of the Queenstown Winter Festival and Coronet Peak has a long and happy season ahead so I thought it would be nice to look back and see how much has changed.
The road is now sealed all the way up to the car park, there are 'magic carpets' instead of rope tows, chair lifts instead of Pomas and of course the amazing snow guns that help things along when needed.
The skis have changed and the clothes have certainly changed but skiing is still the best day out that I can think of in winter.
These photos are from the archives and show how much things have changed.
On the chair lift is Sir Harry Wigley and his wife in the early 1970s.
The photo of people on the rope tow (the Hamilton Tow) was taken on opening day in 1947. This is a great photo to see how the clothing and equipment has changed.
The image of the whole ski field is from the 1950s and show the rope tow to half way up the mountain and a few basic base buildings - looks like good snow coverage that year!
---
Saturday, 8th June 2013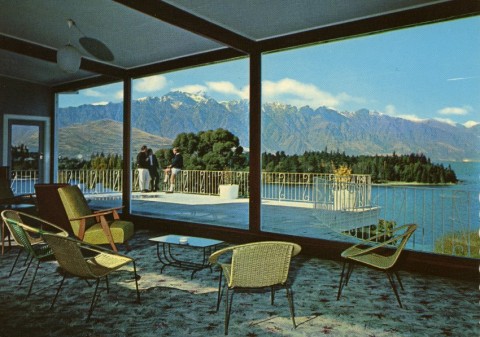 Overlooking Queenstown Bay in 1970s style from the Trans Hotel Lake Esplanade

Publicity for the 1978 Queenstown Winter Festival had a boost with daily presentations on Television One's 'Good Afternoon' programme.
An article in the Daily Telegraph from the 8th June 1978 details how this technologically marvellous feat was to be achieved.
Broadcasts were to be a day behind as the film needed to be physically transported to Dunedin by air, where it was edited overnight to be presented the next day. Two film editors from Wellington were especially based in Dunedin for the duration of the broadcasts.
"From a television operations point of view the whole exercise is a fairly complex one" said Tony Hiles, the producer of the show.
The local representative of the show, Alan Brady, said the sort of coverage being planned presented 'major logistical problems'. It was probably the first time a Wellington based programme attempted an exercise of this complexity.
Mr Brady said "If it comes off - and final travel and accommodation details still have to be worked out - it will provide exciting and colourful viewing as well as the sort of nationwide exposure most tourist resorts dream of but rarely achieve"
How times have changed. Thirty five years later in 2013, Arrowtown starred in TV1's 'Breakfast' show where the presenter was able to present 6 live 'crosses' to Arrowtown with little or no delay in the broadcast at all.