Latest News Blog
Thursday, 6th December 2018
---
From the Archives: Technology takes a leap forward for Winter Festival 1978
Saturday, 8th June 2013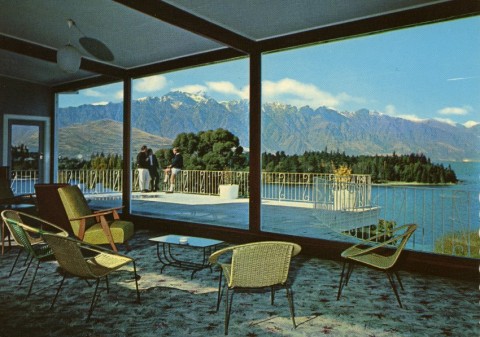 Overlooking Queenstown Bay in 1970s style from the Trans Hotel Lake Esplanade

Publicity for the 1978 Queenstown Winter Festival had a boost with daily presentations on Television One's 'Good Afternoon' programme.
An article in the Daily Telegraph from the 8th June 1978 details how this technologically marvellous feat was to be achieved.
Broadcasts were to be a day behind as the film needed to be physically transported to Dunedin by air, where it was edited overnight to be presented the next day. Two film editors from Wellington were especially based in Dunedin for the duration of the broadcasts.
"From a television operations point of view the whole exercise is a fairly complex one" said Tony Hiles, the producer of the show.
The local representative of the show, Alan Brady, said the sort of coverage being planned presented 'major logistical problems'. It was probably the first time a Wellington based programme attempted an exercise of this complexity.
Mr Brady said "If it comes off - and final travel and accommodation details still have to be worked out - it will provide exciting and colourful viewing as well as the sort of nationwide exposure most tourist resorts dream of but rarely achieve"
How times have changed. Thirty five years later in 2013, Arrowtown starred in TV1's 'Breakfast' show where the presenter was able to present 6 live 'crosses' to Arrowtown with little or no delay in the broadcast at all.