Latest News Blog
May 2013
---
Wednesday, 15th May 2013
From Thursday 16th May until Sunday 16th June, the amazing works of art from the 2013 Art2Wear entrants will be on display in the gallery.
The annual Art2Wear show is a highlight of the Autumn Festival and this year was an absolute sell out.
If you attended the show, this is a great chance to see the pieces close up and really appreciate the hours of work that it must have taken to put these pieces together. Not to mention the creativity required to think of the concepts in the first place!
If you missed out on tickets, or were unable to attend, this is an opportunity to see the works so you can understand what all the talk is about.
---
Thursday, 2nd May 2013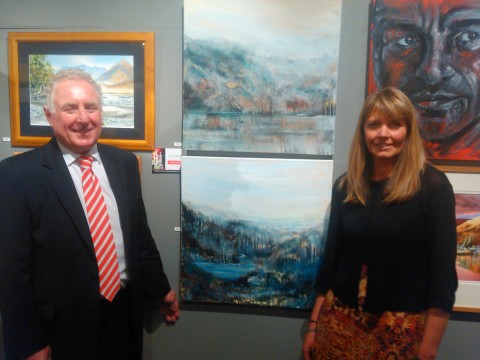 Guest artist and judge Anna Reid and Alan Sutton from Locations with the Supreme Painting Award winning work

Once again the Autumn Festival Art Exhibition is a fantastic success. We have had hundreds of visitors throught the doors to view the lovely artwork.
The Award Winners for 2013 are:
Locations Supreme Painting Award -
Lorainne Higgins 'Arrow River Walk'
Print Central Best Local Painting Award -
Mark Zhu 'Chief'
Berry & Co Supreme Applied Art Award -
Marie Velenski 'Sailing Her Own Ship'
Millbrook Resort Best Local Applied Art Award -
Diana Turnbull-Anderson 'Multi Glaze Jug'
Arrowtown Autumn Festival Emerging Artist -
Emma Gamson 'Reflections'
Lakes District Museum & Gallery Merit Awards
- Nigel Wilson 'Coasting'
- Ro Bradshaw 'Autumn Flight'
Arrowtown Gallery Merit Awards
- Sue Wademan 'Piccolo Villaggio'
- Elizabeth McAllister 'Morning on the Pig Root'
Dezign Public Choice Award -
Hamish McBride 'Reflections'
Many thanks to Anna Reid, our guest artist, who put a lot of time and thought into the awards.
The exhibition runs until the 12th May so make sure you don't miss it!