Latest News Blog
April 2013
---
Saturday, 6th April 2013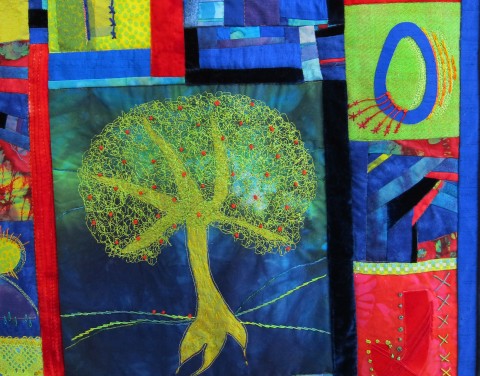 From Jenny Tayler's colourful piece 'Rainbow Enigma'
After a very successful few weeks the exhibition by the COOTS collective is ending tomorrow.
Every day for the past 3 weeks, one of the artists has done 'duty' in the gallery. They have been speaking with visitors to the exhibition, sharing their expertise with the many people who have passed through. Some visitors have come back twice or even more to examine the works.
Jan Crawford, an artist from Queenstown, commented that she has thoroughly enjoyed the chance to chat with people and hear their lovely positive feedbaack. She has loved having the opportunity to talk about her techniques and has relished being able to share her knowledge with so many interested people. Visitors from different countries have often commented that similar fibre art is not given the gallery space it deserves in their home countries and the COOTS ladies are thrilled that they are able to exhibit their work in such a well visited gallery.
The COOTS ladies have been great company here in the museum & gallery and we will miss them arriving in the morning and having our chats throughout the day.
One of the artists, Angela Meecham from Lawrence, has a blog with some wonderful pictures of the art and artists at
---
Tuesday, 2nd April 2013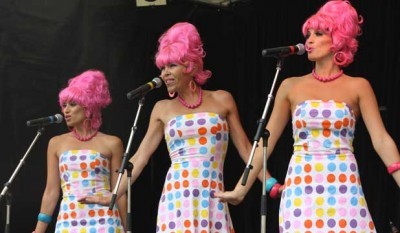 The Beat Girls are performing on Saturday 13th April 'A Blast from the Past'
With just over two weeks to go until the Autumn Festival kicks off for 2013, we have been busy selling tickets for the many amazing events that the organisers have lined up for this year.
Once again, the Art 2 Wear show is the hottest show in town and we quickly sold out of tickets for the Saturday night show, and as I write we have a grand total of 5 seats left for Friday night's show.
The Arrow Entertainers latest production, "It's Out of the Bag" is also proving popular and promises to be a fantastic night.
Call in and see us for your tickets. We are open every day from 8.30-5pm and you can pay cash, EFTPOS or credit card.