Latest News Blog
Thursday, 6th December 2018
---
Arrowtown Autumn Festival - Celebrating 30 years
Sunday, 6th April 2014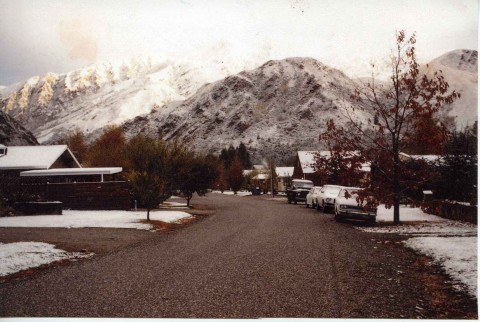 Inaugural festival opening day in 1985 had a decidedly wintery feel.
For most of last week it was hard to believe that autumn is actually here as we had glorious days and lots of warm sunshine. The nights and early mornings give the game away however as the dew starts to appear on the lawn and we pull our slippers out from the back of the wardrobe.
In just a couple of short weeks we will launch into the 30th Arrowtown Autumn Festival.
First proposed in February 1985 by the Queenstown Promotion Bureau to help 'promote Arrowtown', the objective of the festival was to hold 'low-key events... in keeping with the age and image of the town' (Southland Times 14/02/1985).
It would seem that the early festival planners underestimated the party people lurking among the residents of sleepy Arrowtown as the early Autumn Festivals included some riotous concerts and hilarious locally written plays in overcrowded halls. The first festival saw the Royal Oak barbers shop quartet contest filling the pub each night. The beard & moustache growing competitions saw the gentlemen of the town slowly transforming over the final weeks of summer & early autumn. For the women there was a 'bonnets and britches' competition.
The first Autumn Festival was a great success and set the scene for years to come. The Otago Daily Times article following the second festival read: "Stunned by success of Arrowtown festival" as organisers were "slightly stunned" by the number of people turning up to their events. (ODT, 28/04/1986)
Perhaps most famously the Buckingham Belles, with their high kicks and fishnets, are now an essential fixture in the festival. Competition came in the form of the 'Buckingham Bucks' in 2000 but they clearly lacked the stamina of the Belles as they only made one appearance.
This year, the perennial favourite is once again the Art2Wear show on the final Friday and Saturday nights of the festival. An appearance by Suzanne Prentice, proudly presented by the Shotover Country Music Club, also promises to be a highlight.
The Lakes District Museum is hosting the Autumn Festival Art Exhibition once again and will feature a range of artworks in various media from around the district and New Zealand.
The festival highlight for many is the Market & Parade Day which features stalls, food, live music, street performers, a stunt plane that draws gasps from the spectators as it buzzes overhead, more food, and of course the parade of fabulous floats and lots of local kids.
The first organisers were optimistic about the future of the Arrowtown Autumn Festival, and rightly so, as we celebrate for the 30th year the amazing show that mother nature puts on for us in this beautiful place.
For more details about the 2014 Arrowtown Autumn Festival please visit www.arrowtownautumnfestival.org.nz
or visit us at the museum for a programme.