Latest News Blog
Thursday, 6th December 2018
---
Merry Christmas everyone!
Sunday, 22nd December 2013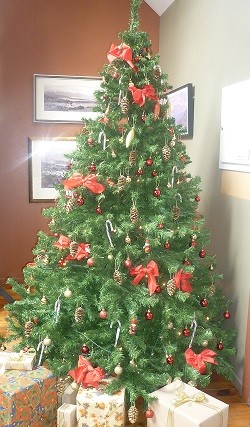 Merry Christmas!

The Christmas tree is up and the books are flying off the shelves in the bookstore so it must be Christmas time again.
2013 has seen some wonderful exhibitions in the gallery ranging from some gorgeous and creative embroidery to thought provoking photography through to Darth Vader's glove! The current exhibition, 'Sign of the Times' is proving popular with everyone and will be a great hit through the rest of the summer.
From the 28th February 2014 the gallery will host an exhibition from Jenny Longstaff and friends from the Otago Art Society. They will be presenting a wonderful selection of photography and paintings.
We have some interesting exhibitions planned for 2014 as we mark the centenary of the beginning of WWI in 1914.
We have had another great year at the museum, the highlight of course being the completion of the new loos! After a couple of months looking at a tarpaulin wall, we were very happy to have our lovely new facilities completed.
The Autumn Festival was a great success and congratulations again to our winners Lorainne Higgins, Mark Zhu, Marie Velenski, Diana Turnbull-Anderson, Emma Gamson, Nigel Wilson, Ro Bradshaw, Sue Wademan, Elizabeth McAllister, and our Peoples' Choice Award winner Hamish McBride.
Just a few weeks ago Arrowtown School celebrated its 150th Anniversary and had a fantastic day when they switched off the electricity, put away the iPads and witnessed a caning (fake, but still frightening) at assembly. The weekend was full of activities which refused to be dampened by the downpour of rain.
Recently, the archives has been hosting a succession of interns from the University of Otago who have been researching some of our local buildings and have found lots of useful information from the archives as well as from Anne McGuire's & David's fantastic local knowledge. Read more about the work that the students have been doing here:
http://www.odt.co.nz/news/queenstown-lakes/283828/past-comes-life
The annual Arrowtown Post Office Fundraising Market Day is fast approaching and will be happening on Friday 27th December on the Village Green (beside the library). From 10.00am to 4.00pm the Green will be full of all sorts of stalls from arts & crafts to clothing and food. Many thanks again to Ann Bain for her tireless hard work organising this important day to support our local Post Office.
Merry Christmas everyone and thank you for your support over the past year. Here's to a busy and bustling Arrowtown over the summer.