Latest News Blog
Thursday, 6th December 2018
---
'Sign of the Times' Exhibition
Sunday, 3rd November 2013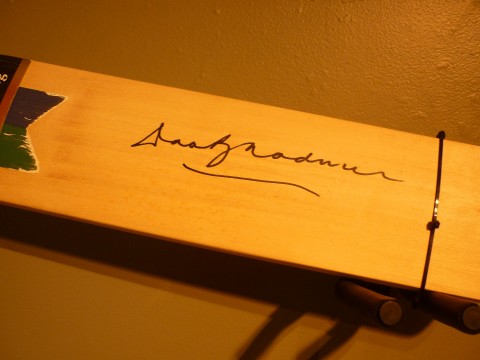 Sir Don Bradman (a little something for our Australian visitors)
An amazing display of memorabilia, signatures and photographs from an Arrowtown collector will be on display at the Lakes District Museum & Gallery until 27th February.
Categories such as music, sport, politics, literature, movie stars and even space travel are represented by some astonishing items. One of Darth Vader's gloves, a signed self-portrait from Michael Jackson, and Tiger Woods's signed golf bag are just a small sample of the items on display. Items as diverse as Abraham Lincoln's signature on a military commission, a handbook signed by Lenin, and Buzz Aldrin's NASA training suit will guarantee that there is something for absolutely everyone at the Lakes District Museum & Gallery this summer.
The exhibition has only been open for 2 days and the response from visitors had been fantastic. A few overseas visitors have commented that it is completely unexpected to see such a collection of items in a small town like Arrowtown!