Latest News Blog
Thursday, 6th December 2018
---
Fun times with the museum's school holiday programme!
Wednesday, 3rd October 2012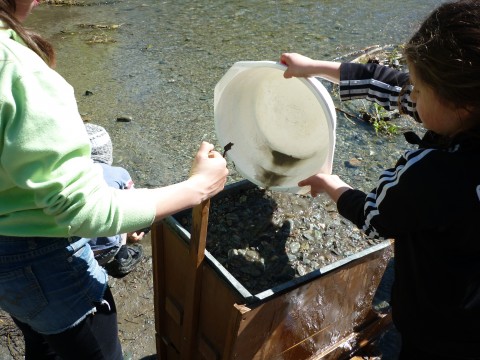 Cradling!!
This week sees a return of the School Holiday Programme to the museum. Initiated again after a long absence to help celebrate GOLD 150 the programme runs for this week only (2nd - 4th Oct) and is focused on all things gold!
Sesssions have included creating 'gold masterpieces', planning a treasure hunt, undertaking a treasure hunt and experiencing life as a Chinese miner complete with a pan and a cradle!! Cradling involves team work with one member fetching and pouring water, another shovelling dirt, and another rocking the cradle. It's hard work but lots of fun!
Tomorrow is the last day...and we still have one or two places left so book now! 4420317