Latest News Blog
Thursday, 6th December 2018
---
Hi There
Wednesday, 30th May 2012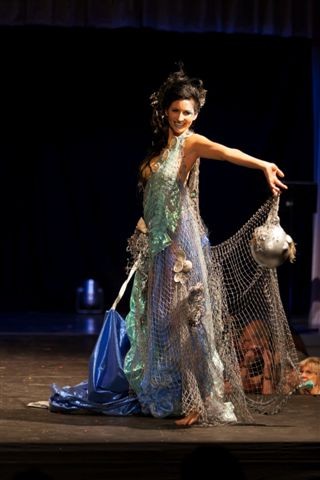 Award winning "Art to Wear" costume - come and see it close up!

Hi there,
We are entering the colder months and while the tourist numbers are down, the museum has still
been extremely busy. The education programme has had record numbers of students through the
doors undertaking a unit on 'gold'. Well done to Rachel Wendy and Denise.
It is the 150 th year since gold was discovered in the Wakatipu and a lot of work is going on behind the scenes to celebrate this important event. Ange English has produced a resource book for teachers on the subject and in October the museum will curate an exhibition all about gold.
The Autumn Festival Art Exhibition has just finished. The winner of the 2012 Locations Supreme Painting award was Liz Kempthorne of Clyde. At the moment we are hosting the local Art 2 Wear costumes in our art gallery.This exhibition runs until late June. These creations have to be seen up close to admire the hours of work dedicated to producing them. Thanks to Ann Bain and her gallery committee.
David Clarke