Latest News Blog
Thursday, 6th December 2018
---
No Stranger to Royal Visits
Saturday, 17th May 2014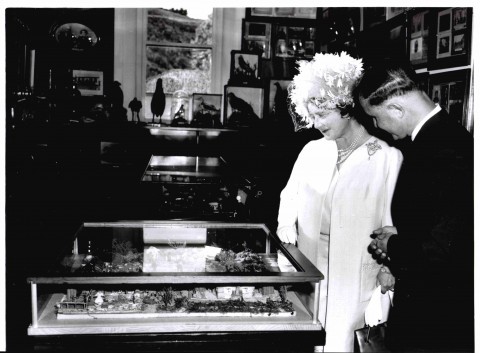 The Queen Mother inside the museum with the President of the Museum Committee, Mr J. Wilcox, inspecting a model that is still on display today.
The recent visit of Prince William and Kate was quite an exciting time for Arrowtown and Queenstown and for a few lucky kids from Arrowtown School. The Duke & Duchess of Cambridge were whisked around on a whirlwind trip of the Wakatipu basin and were greeted by hundred of enthusiastic flag waving locals wherever they went.
The Lakes District Museum, Arrowtown and Queenstown are familiar with the hype that a royal visit can bring and I have had a look in the archives for a look to see how the modern royals' visit differed from earlier ones. There certainly wasn't a jet boat involved when the Queen Mother visited in 1966!
The Queen Mother visited the Wakatipu in April 1966 and visited the museum. The Museum Committee President at the time, Mr J. Wilcox, was later congratulated on the 'able and dignified manner' in which he escorted her during her visit. The Queen Mother was treated to a sheep shearing demonstration on the Queenstown lakefront during her visit.
There was a bit more action during the royal visit in 1970 as Prince Philip tried his hand at curling on a plastic sheet laid out in Queenstown Gardens. The Queen, Prince Philip, Prince Charles and Princess Anne all visited Queenstown in the same tour which must have been quite an event.
The Queen visited the Lakes District Museum in 1990 and was attended by David Clark who at the time had held the position as Museum Director for all of 7 months.
Kate and William's recent visit saw them wine tasting at Amisfield and jet boating on the Shotover River before they spent the night at a secret (although not-so-secret really) location on the Glenorchy Road.
I wonder how long it will be before we see Prince George bungy jumping from the Kawarau Bridge?